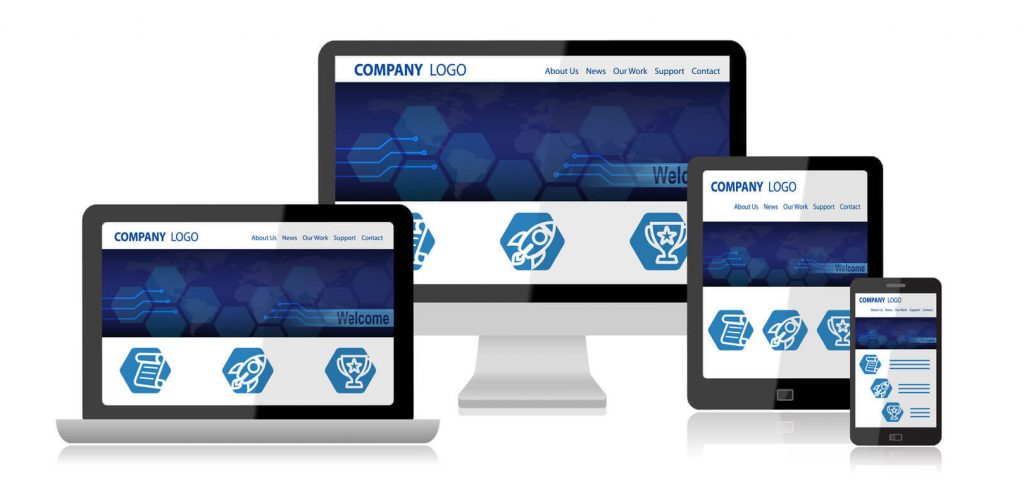 What is Website Design?
Website design involves a variety of skills and technologies. Complex websites generally require a team of skilled graphic designers, web designers, content writers, SEO (search engine optimization) experts, and web developers.
However, some web designers are capable of executing all of the tasks involved in website design especially for smaller sites. Many of the roles overlap and vary from company to company. Some freelancers are capable of performing all of the tasks associated with building a website.
When looking at website design options, there are several factors to consider including branding, site usability and user experience, performance, security, and marketing/sales page development.
Your design depends on what your goals are for your website. Our agency will help you define those goals and your marketing message and translate it to a site that performs for your business.
Responsive Website Design
Responsive website design is an approach that ensures a website provides the best possible viewing experience across different types of devices. This includes a wide range of devices from your desktop PC to a tablet to a mobile device.
Responsive website design is the current standard for website development. Typically the site is designed with mobile in mind right from the start.
Responsive website design is fluid and flexible and has the ability to adapt according to the device's layout.
This website is a responsive website. You can test it for yourself by simply re-sizing your browser right now and see how the site responds. Notice how the site collapses as the screen width gets narrower.
WordPress
WordPress is our platform of choice for website design and development for many reasons. The wide selection of ready-made themes and plugins shortens the design cycle and affords the business owner more time to concentrate on website business goals and objectives. This reduces the cost of "from scratch" frameworks and designs.
However, because of the readily available WordPress themes and plugins, sometimes it's hard to make a decision and business owners fall prey to common pitfalls. Rest assured, with a little WordPress training you can swap out your theme, add plugins to your site, and test your site along the way. You'll also learn strategies for updating your site when the framework, theme, or plugins need upgrading.
Additionally, since WordPress is a content management system (CMS), pages and posts may easily be updated as needed giving business owners control of their websites.
The WordPress developer community is expansive, supportive, and proactive in mitigating security vulnerabilities.  The developers work hard to continuously improve the performance and security of the WordPress framework.
Planning a website can be exciting and daunting at the same time. Download our free website planning guide to help you get started.
At Codefetti we are able to help you with all aspects of proper WordPress website design.
Here is a breakdown of each of these steps:
Website Design
Website design generally refers to the branding and front-end design of the website. That includes the web graphics such as the menu, logo, background images, and site structure. If a web designer is not a graphics designer, he or she will typically work closely with the graphics designer to achieve the desired client-side presentation of the website.
A good website designer will understand HTML and CSS, which are the presentation and format languages on which a website is built. Some website designers also know JavaScript and PHP although these programming languages usually are not required for basic WordPress websites.
So don't worry that once you've chosen a theme you're stuck with it! Your WordPress theme can easily be customized to reflect your brand the way you need.
Web Development
A web developer is responsible for the back-end coding of a website. This individual is a programmer who is able to write programs and scripts that run on a web server and deliver data and information to a browser.
This person works hard to ensure that your website works at peak performance. That means your website loads in under 2 seconds and scores well when tested with various online tools such as GTMetrix, Pingdom, Sucuri, WebPageTest, and more.
This can be accomplished through appropriate caching plugins and putting the website on a content delivery network (CDN) such as CloudFlare.
Website Content Writer
Quality content is rewarded by the search engines and helps drive traffic to your website.  It increases website visibility while providing valuable information to your visitors in the form of tutorials, videos, slideshows, and infographics to name a few.
Your website content writer incorporates specific keywords into the copy and engages visitors so they stay on your website to browse your pages and discover all you have to offer.
Search engine optimization (SEO) is a key element of a successful website. SEO involves keyword research, on-page SEO, and off-page SEO.
Keyword Research
Proper keyword research needs to be done before content is written. Keyword research is essential to attract the right visitors to your website. When evaluating keywords for SEO, it's important to choose words that have a high search volume, but low competition.
In other words, the search engines keep track of what terms people are searching on. If your competitors are using keywords more effectively, their website pages will rank higher in unpaid or organic (natural) search results. This results in more visitors clicking through to their website pages. And that means you might be losing business.
Google search algorithms have changed dramatically over the past year and businesses that were enjoying great page ranks found themselves losing their position and even falling off the charts. This is due to employing "black hat tactics" in their SEO, which Google has severely penalized.
Producing regular, quality content is essential for your website health and ranking.
SEO is ongoing work and your website should be monitored on a regular basis.
On Page SEO
"On Page SEO" means that every page of your blog or website needs to have an appropriate keyword phrase in order to target your traffic. An SEO expert will know the correct way to optimize each website page.
Off Page SEO
"Off Page SEO" involves link building and social interaction. This means that your new blog posts should be submitted to article directories and social bookmarking sites such as Digg or Stumbleupon.
Additionally, local directory submissions such as Yelp or Manta are great ways to get backlinks to your site and improve your chances of turning up in geo-targeted search results.
Link building needs to be natural and diversified. It should be done gradually and with trusted websites.
Make sure that your social platforms also link back to your website.
Why You Need a Mobile Website
Wondering why you need a mobile website now?  Whether you are a service provider, retailer, or solopreneur, here are just a few statistics to help convince you:
According to Internet Retailer, "80% of smartphone owners want more mobile-optimized product information while they're shopping in stores."
2015 Cyber Monday online sales are projected to reach $3 billion breaking all records for digital sales.
Google has officially reported that more searches are conducted on mobile than desktop.
And the list goes on and on. Are you beginning to see the opportunities for your business?
If you're still not convinced, pull out your smartphone and call up your website. Chances are you will have to fiddle with the display to enlarge the navigation menu or actually read the text.
If your website is not geared for mobile users, it's time to revisit your online marketing goals and set a mobile marketing strategy in place.
Mobile Web Design
These days most WordPress themes are mobile-friendly out-of-the-box. But if you have an older theme and are looking for an easy and effective way to create a mobile version of your site, consider WP-Mobile-Touch. It will hold you over until such time as you redesign your website, and it passes the Google test for mobile friendliness, too!
A simple script uploaded to your web host will detect whether or not the user is on a smartphone. If so, the script will redirect the user to the mobile-friendly version of your website. That mobile version can have just the most important details about your business and a tap-to-call button to make it easy for visitors to contact you.